Chester exhibition 2017
05/08/2017
As part of the 2017 Chester open art exhibition one of my artworks was on display at http://www.commonhall.co.uk
And also at the Chichester Arms Chester.

Update.
I came 2nd place in this art competition!! Wahooooo :)

Many thanks to Anastasia and her amazingly team for organising such a fantastic event.
Artist of the year 2018 and 2019!
01/01/2018
Delighted to have been shortlisted and see my work on display for Artist of the year 2018.
And again 2019!.
The exhibitions were held at the wonderful mall galleries in London and were truly inspiring.
It was also really lovely to mingle and meet with all the other shortlisted artists there too....what talent!

The 2019 exhibition was also a double whammy for me because my painting " Hello sunshine " was one of the paintings that sold at the event. What a lovely feeling.

Big thanks
L J
X
Jacksons painting prize 2020
01/06/2020
In 2020 one of my paintings made the longlist into the jacksons painting prize.
For me personally this was a real privelage and meant a great deal to me. There were around six thousand entries from wonderful talented artists, so to get into the final 400 longlist is very difficult indeed!.
Daunting but fun.
There's always amazing paintings to be viewed and admired at the jacksons painting prize exhibitions, utterly breathtaking.
Artist, wildlife fan, bird watcher, gardener!
16/06/2021
Where do I gain inspiration for my paintings? I'm often asked this question.
Well its from the natural world around me.
I'm also extremely lucky to live in a semi rural place, the lanes and sandstone trails around my village are notoriously beautiful, natural, and full of wildlife.
I also live very close to a large forest, rich in natural habitats for British wildlife.
However, a big part of my inspiration is in my own garden!, I don't have to look far to find a beautiful flower or creature!, many are already here in my own garden!. poppies, thistles, lavenders, echinacea, irises, roses, many varieties of wild meadow and nectar rich flowers grow in abundance in my gardens. Too many to list!.
I've spent around 14 years creating many of my planted areas for wildlife, and of course for my own enjoyment. I grew up in the country and will always be a country girl at heart.
All my floral and landscape /meadow paintings are created using my gardens as the main first point of inspiration.
For my other larger animals paintings I tend to gain inspiration while I'm out & about on my travels. I usually make quick sketches in situ, and take photographs for when I'm back in my studio. Occasionally I'll also paint en plein air, if time/weather allows.
I also study lots of varying reference photos for hours before I start a painting in order to understand the basic characters of an animal (muscle tone, facial structures etc), it all helps me to build a picture in my mind of what I want to paint, and what " vibe " I want to portray within my painting.
I love every single moment
L J
:)
Cornflower blue
25/06/2021
.....................When my cornflowers appear so do the bees, they just can't get enough of them.
I grow both perrenial and annual types, thus ensuring I have lots of nectar rich flowers ready to welcome the bees.
And of course this also means lots of inspiration for my paintings in the summer months.
Cornflowers I've always loved, that beautiful clean clear blue shade just blows my mind, i work hard to get the shade just right when I'm painting them ( not too much cool ultramarine but not much green pthalo). I often also use a bit of cobalt blue mixed with a very very watered down lavender shade.
I tend to paint these paintings en plein air using my garden as reference and paint many of my floral and insect paintings without a pre sketch in order to capture the spontaneous nature of the subject matter, and also capture energy and moment. I find that a pre sketch can sometimes create a stunted look to watercolours, a look I try to avoid.
Natures kitchen
27/07/2021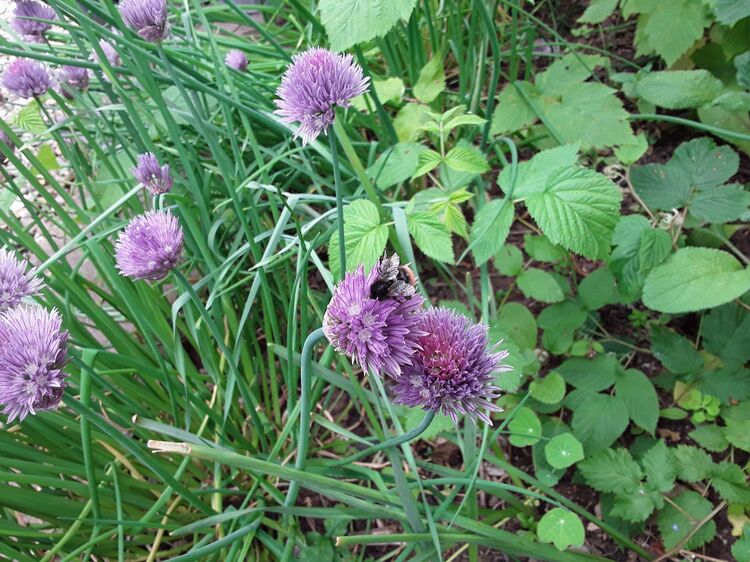 For many years I've grown a large range of alliums and chives in my garden. If you want to observe up close the wonderful energy and fascinating behaviours of bees, I'd say a good place to start would be to grow these usefull and pretty plants, the bees adore them, sometimes I can hardly even see the flower heads for the bees!... fantastic :-)
Every little thing is magic ....
18/08/2021
When I'm not in my studio painting, or photographing/ sketching wildlife out in the field, a large chunk of my " leisure time " is spent just simply observing wildlife. This can either be during my downtimes at home in my gardens and local walks, or during wildlife holidays and rambles further afield.
There's just nothing more wonderful for me than being out in the fresh air, its not just the wildlife that make me feel great, it's the flora too!.
Often overlooked, plants play an important role in wildlife preservation. Every flower, every leaf, every particle of soil and every slither of wood, they all play a part in the delicate balance of life!.
The whole of it ( including ourselves) are all entwined and connected in subtle but important ways.
Plants are so cool :)
What may seem like " just another leaf " to us at first glance, could have been a perfect little comfy resting spot for a butterfly ten minutes earlier.
And a curled up leaf could become a perfect water hole for a visiting thirsty hoverfly!.
I'm forever in awe of nature and its wonderful and intricate far reaching facets, I suspect many of which we have yet to discover, and understand.
I hope you are all enjoying your time spent outdoors this summer as much as I am, the world is still a sublimely beautiful place isn't it!
:-)
The plantswoman
22/08/2021
It's fair to say that my interests are firmly rooted in plant life, definitely as much as they are in wildlife and painting.
In fact I've probably been passionate about plants for a little longer.

My " plantswoman " days started so far back in my life that I can hardly even remember the starting point now!.
I've been cultivating, growing and nurturing plants since I was a toddler, and ever since I've had a garden of some description. It's in my blood, I just live to grow things.
So you may wonder why I'm a wildlife artist rather than a botanical artist, well the truth is that I enjoy painting both!, at some point I may even wander further over to the botanical side of painting, but for now I'm content to combine both.

And when I'm not painting plants and wildlife, I'm usually photographing them!. Yep it's a full time obsession.



I hope you are all following your true passions, and doing whatever makes you happiest :)
Love
L J
x
In my studio - Tools of the trade.
18/09/2021
Occasionally new artists will ask me which paint brands I use to create my paintings, and which are my favourites.
So I'll answer that one today while I'm taking a small break from painting. I finally have the time to answer a few of your lovely messages.
Well. Its winsor & newton paints for me all the way (artists range). I've used w&n my entire career and they are my main " go to " brand. I find them superior in terms of colour and longevity.
But I also adore schmincke paints.
Occasionally I'll dabble with Daniel Smith paints
I must admit I'm a bit of a paint junkie, and carry a large range, keep some of them in my desk drawer close to hand so that I can quickly make my selection.
I rarely use just one colour though, winsor and newton paints are great for mixing and creating your own unique shades and mixes. Part of the pleasure of painting (for me anyway) is the magic of colour.
Having said all the above, you really only need a few tubes of good quality paint, just a basic range of around 5/6 colours will be ample enough to get you started, in fact you could easily manage with that simple palette your entire career if you wish!. Many more colours can be created from just that basic set. You absolutely do not need to purchase lots of shades and tones.
But I just love paint, and spend much of my pocket money on it ;)
So yeah, I have a few extra tubes.
It's my little treat to myself. We all have things we love to buy occasionally, mine just happens to be paint tubes!.
L J
:)
x
Japanese anemones
28/09/2021
Well it's that time of year again, the last of the summer flowers start to shrink back into their long winter rest. But my Japanese anemones are often the last to go, they hang on right until mid/end of October for me, cheering me and putting a smile on my face on cooler misty mornings.
I also adore their delicate and natural colourings.
I actually get quite a buzz out of seasons changing, and enjoy the fact that we live in a country whereby these changes are very apparent, it means we always have next spring and summer to plan for. If you're a fellow gardener you'll know exactly what I'm talking about.
There's always something to look forward to in a garden :)
Hope you are all enjoying your autumn
Love
L J
x
The other two....
06/10/2021
And here's the other "air brick " newts, the parents I pressume!.
Sorry about the blurry images. It's's not easy taking a quick photo of newts with an iPad late at night in yer dressing gown and slippers trying desperately not to disturb them (or the neighbours lol), or slip on the mossy patio and break my hip :)
Lordy the things I get up to when most " normal " people would probably be watching telly, or be in bed sleeping.
Your the best thing...
06/10/2021
I have lots of newts living in and around my gardens and wildlife ponds.
And then i spotted a mating pair started to live in the air brick on the outside wall of my conservatory, it's so funny cause every year they bed down in the air brick holes, one in each hole! ( lol it's like a Mr & Mrs kinda upstairs downstairs affair).
And then in the spring they come out of hibernation and trot off to my wildlife ponds to hunt and mate.
Well, they now have a little one with them, this teeny tiny baby Newt I spotted the other week. I guess he will be in the other air brick this winter then :)
They will never know how much they put a smile on my face!.
Soooo cute, and I'm so delighted to help nature, newts are so precious and constantly they loose their natural habitats, it feels wonderful that they have found a place to thrive in my garden, and it's a chemical free place too, hence they should do well.
Brill!.
The wild butterfly garden
09/10/2021
Well it's been very mild in Cheshire today, wall to wall sunshine.
So I took a rare full hour lunchbreak to get some fresh air and wander through my gardens.
My greatest joy in life is seeing wildlife enjoying the fruits of my labour, the butterflies and bees having such a good time visiting the nectar rich flowers and plants that I've grown for them. This particular garden border is perhaps a bit on the gaudy side (in terms of colour schemes) for some people's tastes, there's almost every colour under the rainbow!, but that's how the insects seem to like it. So it'll have to stay, actually I'm kinda enjoying the zingy colours though, keeps me alert when I'm starting to flag a little in the afternoons ;)
Lol there's certainly nothing quiet and zen about this planting scheme, it's full of energy, colour. and quite literally buzzing with life.
The bees are just thriving in this garden!.
On a less brighter note....I do sometimes worry (and shudder to think) about where they all would be and what would happen to the many many varieties of wildlife that have made my gardens their home. If I wasn't here!.
I worry about one day in the future when I'm gone and someone else is living in this home, I hope to God it's someone who cherishes nature & wildlife. And i hope they tread softly and let nature go wild and be their guide. Less chemicals more plants.
And I dread to think of someone in future years draining my widlife ponds and filling them in to make a sand pit, or something concrete ...eek the newts and frogs :(
Ah well we mustn't think bleak, instead we must think about the positive impact on nature that we can have right now. Hopefully the future will then take care of itself .....
A few of my photos and memories
12/10/2021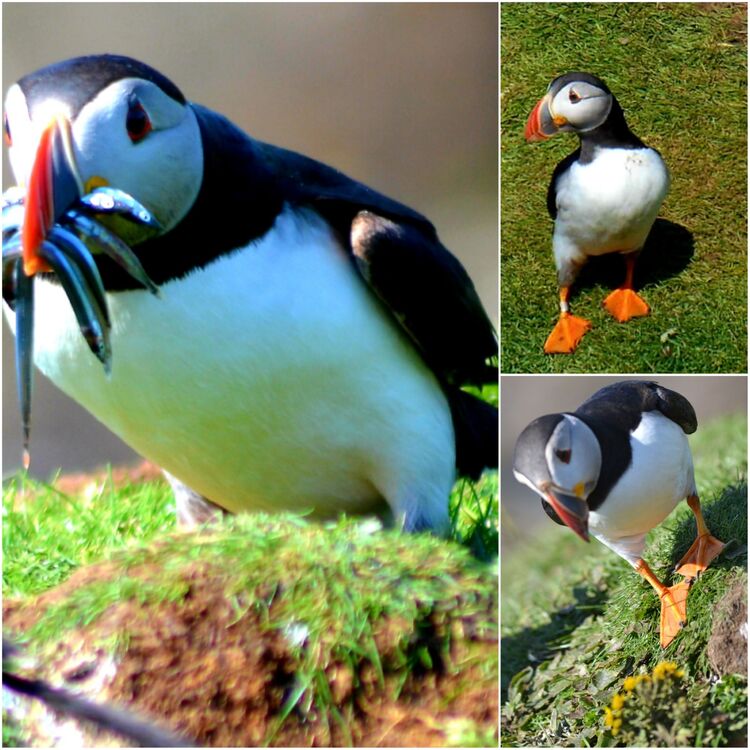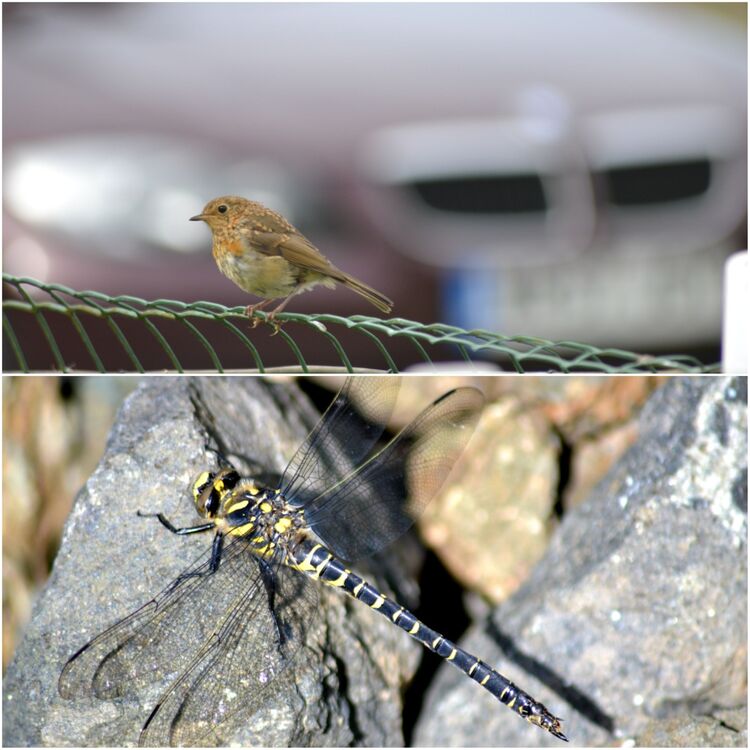 When I'm out about enjoying nature and wildlife, I'm often inspired to take a few quick images. I could never profess to being a fantastic photographer. But I do get great joy and satisfaction photographing the things that I love and the things that move me.
From the simplest of things we can find the most amazing beauty and detail, even emotion!. ....
If we look a little closer, and take our time to linger.
Heaven truly is a place on earth, or at least it could be, if we continue to protect and appreciate it.
What makes me tick....
31/10/2021
My wildlife ponds are a constant in my life!. Whenever the world around me seems a puzzle or concerning, my gardens and wildlife ponds bring me back to peace. Everything makes sense to me when I'm amongst nature.
Its nature. Nature makes me tick. Not just as an artist, but in every aspect of my life!.
I've spent well over ten years creating and managing my current gardens, designed for nature and wildlife. Many many many years of back breaking work, and probably a lot of missed parties ;)
But it was worth every single moment!.
I've always gardened organically. No pesticides/fungicides/slug pellets etc.
It's been a bit of hard work, not just the physical work, but also the mental work of trying to convince my hubby to get on board with the occasional hand weeding lol.
But WOW the results are better than I could have ever imagined, here we are ten years ish on and the wildlife is utterly thriving, and it now has it's own little biosphere.
If you think you can't have a lovely garden without the use of chemicals. Trust me you can!, I promise you that. Just get going :)
L J
x
Greetings ....
06/12/2021
I've decided to keep the "news" section of my website strictly for " art related " matters. Rather than a general blog.
I'm just not a natural blogger and would much rather be sat at my easel painting than blogging.
So from now on there will only be occasional notices here, all art related.
I just don't want to sacrifice time on writing, it takes too much time away from my painting.




But here is my latest arty news..I still love to talk about art :)


Well!, I'm currently working on a tinsy little new addition to my range for 2022!.
In the past I've rejected opportunities to offer greeting cards as part of my range. But now that I've found an eco option I'm happy to go ahead. And actually I've had a sneak preview of them and oooooh they're looking sooo fab!.
I'm hoping to bring you the entire range by around Feb 2022 ish.
I want to limit it to a small select range from just a few of my wildlife pieces. I'm also going to keep these greeting card packs priced for you as low as I can possibly manage.
So do look out for my new greeting card packs in 2022.

What else is new in my arty world?
Well December is almost always a " winding down " month for me business wise, never a mad crazy busy month in terms of sales. And actually I enjoy this slower period because it's often a month when i get loads of things done, things such as refreshing and tidying up my website, giving my paint brushes an extra deep clean. It's also a month when I can get ultra creative and spend maximum time playing around with new paintings and planning new paintings, really thinking about art !. In fact I've created some of my best paintings in past months of December.
So let's hope this year is no exception :-)


Keep warm everyone, keep well, keep creative.
Love
L J
X
Oxo gallery London 2021
10/12/2021
I was one of the invited artists to Help Explorers against extinctiom to raise funds for wildlife conservation.
Many many many talented artists across the globe raised funds. Brilliant!.
Always a pleasure to help where I can.
Very well done to everyone involved. Truly inspirational.
I'm back!,....and so are they :)
24/03/2022
Sorry I've been a bit quiet for the last fortnight and not adding quite as many new paintings for you as I usually do, it's simply because mid /late March is kinda always my main wildlife watching time.
I love birdwatching/nature/walking/ wildlife watching etc throughout the entire year, but March is always my busiest month. I have two wildlife ponds and a fairly large wildlife garden, both of which bring lots of gorgouse creatures to my doorstep from March onwards. Hence it's always a lovely time of the year for me to enjoy what I've spent years creating. I've also been busy sowing seeds for this years nectar rich plants, and spending some time walking and birding in north Wales.
Aaaaanyways, that's what I've been up to.
But I'm back now, and look what has turned up my wildlife pond, this years tiny taddies are here already!. I just cannot wait to spend the new few weeks/months watching them slowly develop into beautiful perfect tiny little froglets, it's a joy to watch every year :)
I hope you are all enjoying some lovely times doing whatever you love to do.
Love
L J
x
The new arrivals :)
25/03/2022
I managed to get a few fairly close up shots of the brand new baby tadpoles, and the newtlets :) in my wildlife pond today. Just took the images with my phone so please excuse the quality. But I hope you enjoy seeing them.
There's a bumper hatching this year!.
Happy mothers day weekend everyone :)
Rambles & umbels
09/06/2022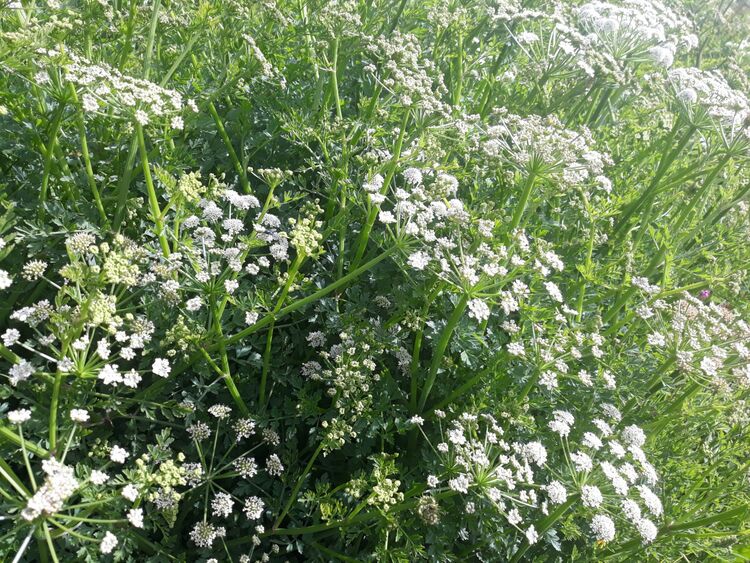 I've been taking a quick holiday this week, just one week to get away and enjoy some fresh air.
One of the things that always love to do is a bit of cliff walking, there's just nothing quite like getting away from the maddening crowds and finding your peace.
There's a few places in north Wales that I particularly love, off the beaten track and completely deserted, quite high cliff walks, but absolutely fantastic for fresh sea breezes, and great bird watching.
I've loved every moment, and now feeling fully refreshed ( and inspired) and ready to get back to my studio.

I hope you are all enjoying your summer holidays, whatever it is that you love to do, and whatever makes you feel wonderful :)

L J
x
Sunshine on a plate...
27/06/2022
Well I've had the most wonderful weekend!.
It's not often food based items /images make it onto my website. But I've spent a lovely weekend harvesting berries from my organic fruit patch in my garden, it's such a lovely peaceful pastime whenever I fancy a break from painting.
These uber sweet lucious fruits are ready to pick just in time for Wimbledon.
I heartedly recommend anyone to grow their own fruit, it tastes soooo much better than shop bought, and even if you only have a tiny space or a balcony you could probably fit a strawberry plant in a pot, they even grow trailing in a hanging basket.
But the best bit of all (for me anyways) is the ability to have a yummy dessert on hand at a seconds notice, just pop out to the garden and wham bam thank you mam. And I do love my desserts ;-)
So I griddled a scone and smothered it with summer fruits,. Perfect for sharing with your significant other while watching Mr Murray do is thing on the tennis courts this evening.
Brilliant weekend, brilliant Monday. Common Andy.
Ain't summer great .....
:-)